A New Commitment to Memory Care
Oakwood Creative Care™ & ALLE Learning™ have partnered for the past five years in the development of a new and innovative memory care program that blends lifelong learning classes, with creative & expressive sessions to create experiences that encourage recall and curiosity. It's time to learn, to create, and to laugh!
EXPLORE THE STORE
WHAT IS EngAGE EnCOURAGE™?
Adult Day Clubs
Unique and special places created just for people with cognitive and physical challenges.
Memory Care Communities
It's all about the experience. Do participants leave feeling valued, loved & connected?
Community Based Programs
Cities and towns are providing services and support for people with cognitive challenges.
Multiple ways to make the experience come alive: see, hear, touch, say, think, and express.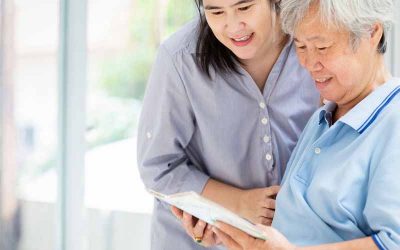 During class, we laughed along with Lucy and Ethel, sang along with Elvis, and recalled the drive-in movie theaters and snack shops where those pesky teenagers gathered with their friends. We recently led a lifelong learning course about the 1950s for a...
Get Started Today!
A creative memory care curriculum for adult day clubs, memory care communities, and community programs that sets a new standard for engagement & interaction.
It's time to learn, laugh & create!
Explore the Store
LEARN MORE