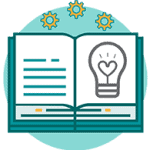 informational
Support Resources
Comfort and Familiarity, Who Knew? We certainly had no idea when we began introducing short stories into our Lifelong Learning program of the power contained within ten short pages. Is it the pleasant and often theatrical sound of the reader's voice or the sense of...
read more
Get Started Today!
A creative memory care curriculum for adult day clubs, memory care communities, and community programs that sets a new standard for engagement & interaction.
It's time to learn, laugh & create!
Explore the Store
LEARN MORE